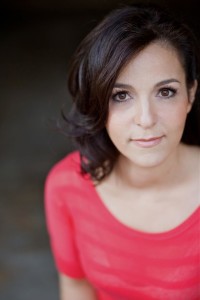 The Wonderful Marie DelPrete joins the cast as the smart-mouthed, straight-talking TJ, Delilah's confidant and best friend.
DelPrete won FameCast's $10,000 top prize as Season Four's Comedy Fenom, the first-ever female standup to win the prestigious award.
Described as 'the love-child of Andy Kaufman and Gilda Radner" by actress Melissa McCarthy (Mike and Molly, Bridesmaids) she's been hailed as a bright star to watch: "That's some funny-ass s#*t!" says Bill Bellamy, host of Last Comic Standing, "Look out for [Marie DelPrete], cause she is one funny girl!"
Marie's offbeat, highly-original act has become a fixture at comedy clubs in the Los Angeles scene, and has entertained crowds across the country at such iconic venues as New York's Gotham and Chicago's Zanie's. She's performed on NBC's Last Comic Standing, NickMom's Night Out, and guest-starred on CBS's The King of Queens.
Marie regularly appeared on Nickelodeon's Parental Discretion, and was a weekly panelist on the Sirius XM radio show Bad Advice. She appeared in the indie feature film Commander and Chief and received a Best Actress nomination at MethodFest Film Festival for her performance in The Perverts, a comedy based loosely on her standup material. Marie can also be seen in a leading role in the upcoming TV pilot, Married To Brooklyn.
Here's what Marie had to say about the series:
"Looking forward to my upcoming role of TJ in The Misadventures of Delilah James. Look out Madison, Wisconsin cause this web series is gonna shake things up."
We're so excited to have Marie join the team and we can't wait for you to see her as TJ!